California voters will decide whether to legalize marijuana
The first state to legalize marijuana for medical purposes, California leads the country in decriminalizing the sale and use of cannabis. Other states are considering the issue, too, but critics warn of the impact on young people.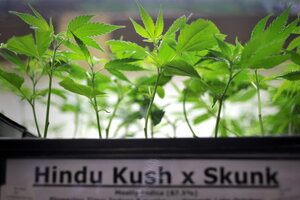 Russel A. Daniels/AP
California continues to stay at the nation-leading edge of legal activity concerning marijuana use.
In 1996 it passed the first national initiative to make marijuana available by prescription to relieve pain, nausea, and other physical maladies. In July of this year, Oakland became – by a wide margin (80 percent to 20) – the first US city to assess a tax on the sale of marijuana.
Now, a new initiative that will allow local governments to oversee and regulate cultivation, distribution, and sales – and to determine how and how much cannabis can be bought and sold within area limits – will be on the November 2010 ballot. National advocates say that regardless of the vote – signature gathering went fast and easy, according to reports – a major corner has been turned in national acceptance of marijuana use.
"Regardless of what the voters decide in 2010, the genie is not going back in the bottle," says Paul Armentano, deputy director for the National Organization for the Reform of Marijuana Laws (NORML). "A majority of west coast voters, and an estimated one-half of the national public, are demanding that we replace our nation's seven-decade-long policy of marijuana prohibition with one of controlled regulation, taxation, and education."
Armentano says the citizen's initiative is evidence that despite the growing public support for marijuana reform, a majority of elected officials still perceive the issue to be a political liability rather than an opportunity.
"As a result, it will be the voters, not the politicians, who will ultimately determine the direction of our nation's modern marijuana policies," he says.
---