Time out: Alabama judge delays trial for college football
Attorneys in Alabama convince a judge to delay the trial of civil case so fans of Crimson Tide football can attend the BCS National Championship Game in California.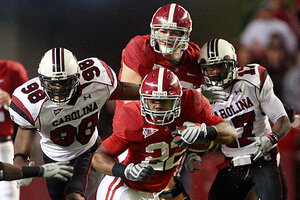 Dave Martin/AP/File
Every good Southerner knows there are only two religions in Alabama – football and football. This week, a new maxim emerged: When it comes to the state judicial system, there's a lot of crimson hiding beneath those billowing black robes.
Circuit Judge Dan King announced Wednesday he would grant a delay in the civil suit Traywick v. Energen Corporation, which was scheduled for trial Jan. 4 in Bessemer, Ala., a suburb of Birmingham.
The reason?
Energen's defense attorneys want to attend the showdown between the University of Alabama and University of Texas at Austin, scheduled for Jan. 7 at the Rose Bowl. If Alabama wins, it will be the first time in 17 years that they've claimed the Bowl Championship Series national title, considered by many to be the apogee of college football achievement.
"Such an event only comes infrequently during a person's lifetime and is an achievement of such a magnitude that all involved in this litigation should want everyone to fully participate in this achievement," writes Jon Terry, attorney for Energen, in his nine-point motion for a delay.
---