Frustrated black youths take to the Internet
A university project found that black youths feel widely alienated – 48 percent of respondents believe the government treats most immigrants better than most black people. So researchers created a place for them on the Internet. The Black Youth Project is a website of research and blogs aimed at the group.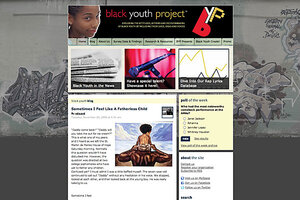 www.blackyouthproject.com
When Fallon Wilson saw the movie "Precious" recently, she cried throughout the film. But some of the depictions, especially of the title character's abusive mother, also made her angry.
So Ms. Wilson, a graduate student, blogged about it – and entered into a spirited debate with other young blacks about the movie. They also discussed African-American stereotypes and the reasons that black women sometimes seem to choose men over their girlfriends or even children.
"I got a lot of pushback," says Wilson, who attends the University of Chicago's School of Social Service Administration. But many people also agreed with her critique of the film, she notes.
Wilson is one of the regular bloggers on a website launched last month out of the University of Chicago that aims to be a "one-stop shop" for all things pertaining to black youths. It's an amalgam of research, media reports, and survey data, as well as a platform for young African-Americans to post videos and music and to blog about politics, pop culture, and their experiences.
"We felt there needed to be a space on the Web where young black people could speak for themselves," says Cathy Cohen, a political science professor at the University of Chicago and the lead investigator at the Black Youth Project (BYP), which has researched the attitudes, culture, politics, and resources of African-American youths since 2003. "This is a space for young black people to be politically engaged, and it's a place for teachers to think of creative curriculum based in the lives of young black people."
The website (www.blackyouthproject.com) came out of the work that the BYP has been engaged in, particularly a national survey it conducted several years ago. The survey, coupled with detailed interviews with individuals, offers insights into the attitudes that black youths have about everything from hip-hop and sex to politics and religion.
---