Underemployed: For some US workers, now any job will do
As US unemployment has climbed, so, too, has the number of workers who are 'underemployed,' or working in positions that do not fully utilize their education or skill sets.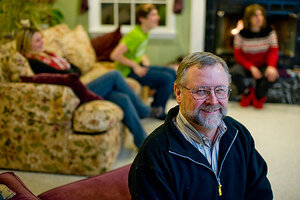 Ann Hermes/Special to The Christian Science Monitor
Coleen Klinger has experience working overseas and a degree in international studies. She is watering plants at a local Lowe's to make a living.
Steve Masten, single father of three, owned a magazine consulting firm for 25 years before taking a job at a gas station in Missouri.
Bill Smith of New York, who has a daughter in college, a son in high school, and a master's in education and guidance counseling, has had to work packing frozen turkeys.
These are just some examples of the many experienced workers who, after spending months or even years unemployed or underemployed, have decided that any job is better than no job at all.
"Some days I feel embarrassed to think that this is the best that I can do," says Ms. Klinger of Zanesville, Ohio. "Then I talk with people like my brother who have not worked in over a year. I remind myself that I am doing something."
More people are underemployed in America than at any time since the government starting keeping the statistic in 1990. By the definition of the US Bureau of Labor Statistics (BLS), they are America's "underutilized" – those working part time but who want to work full time, those who want to work but have been discouraged by their lack of success at finding a job, and those who are so discouraged that they have stopped looking for work at all even though they want to work.
---