Wes Welker injury a reminder of why the Colts tanked
Wes Welker injury could significantly impair a New England Patriots team already thin at receiver. It is what the Indianapolis Colts were trying to avoid by pulling starters against the New York Jets last week.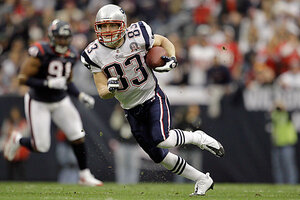 David J. Phillip/AP
Last week, the Indianapolis Colts outraged virtually everyone beside Mercury Morris by looking into the face of perfection and seeing Curtis Painter. This week, the world was reminded why: a Wes Welker injury.
The Colts shrugged at a chance to finish the season undefeated, taking out quarterback Peyton Manning in the third quarter of a game against the New York Jets last week and replacing him with rookie Painter, who had never played a meaningful snap in the NFL. Ahead 15-10 when Manning left, the Colts lost 29-15.
For the New England Patriots, Welker is perhaps the most important player not named Tom Brady, and he appears to have suffered a serious knee injury in the Patriots' relatively meaningless regular-season finale. No injury report is yet available.
Welker's importance
The 10-6 Patriots, who went on to lose the game to the Houston Texans, are clearly not the force they were last decade, yet they were taking shape as a dark horse – a team no one wanted to face in the playoffs.
But the New Orleans Saints had showed how to shut them down offensively in a 38-17 rout earlier in the season: neutralize Welker and fellow receiver Randy Moss, and Brady has no other dangerous options. Welker led the NFL in receptions with 122 despite having missed two games this season.
---