Curtains for prime time's 'Jay Leno Show'?
NBC's experiment with a prime time comedy hour appears to be a flop, with reports that the network is pushing the faltering 'Jay Leno Show' back to its old late-night slot.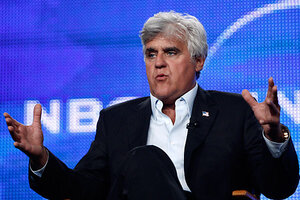 Matt Sayles/AP/File
The future of "The Jay Leno Show" is looking shaky, with reports that NBC is planning to move Jay Leno back to his old "Tonight Show" time slot of 11:35 p.m.
The peacock network won't deny or confirm these plans, but most knowledgeable observers consider the experiment of substituting dramas with Mr. Leno's comedy at the prime-time 10 p.m. slot to be well and truly over.
The show's debut last September garnered nearly 12 million viewers, but lost nearly half that audience almost immediately, then slid steadily downward to last week's roughly 5 million viewers, according to Mediaweek's Marc Berman.
"If this were a cable network where ratings were not so critical, then perhaps there would be patience with a show while it found its footing in a new time slot," says Robert Thompson, founder of the Bleier Center for Television and Popular Culture at Syracuse University. He points out that NBC gave Leno plenty of time to build ratings when he took over the "Tonight Show" from Johnny Carson in 1992.
But this is network television in the 21st century, he says, and NBC can't afford the combined punches of low ratings at 10 p.m. and unhappy affiliates who have bitterly complained about losing up to half their viewers for their 11 p.m. newscasts.
---