'Lost' episode: Did couch potatoes really bump Obama speech?
The White House backed down on the date of Obama's State of the Union address when 'Lost' fans tweeted their outrage. Western civilization and American politics survived.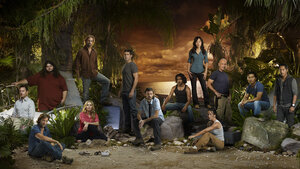 ABC/FLORIAN SCHNEIDER/BOB D'AMICO
The decision by the White House Friday to not preempt the season premiere of the psychedelic crash-drama "Lost" for the State of the Union address reveals the surprising power of that much ridiculed stereotype: the American couch potato.

Give 'em a Twitter account, and the President just better back off that remote.

"OBAMA BACKED DOWN!!!! Groundhog Day is OURS!!!!!!! (God Bless America)," wrote one "Lost" producer on Twitter.

Usually presidents, even this one, will steamroll regularly scheduled programming, taking over, as Obama did, "A Charlie Brown Christmas" on Dec. 1 to announce his new Afghanistan policy. (To the chagrin of some.)

But Charlie Brown apparently can't hold a candle to Jack, Sawyer and Co.

The hugely popular ABC drama involves a group of mostly good-looking plane crash survivors who travel through time via a magnetic island – or something like that. It is gripping TV, if a bit overbearing and unbelievable (a smoke monster?) It has enough mysteries ("Obama in a Dharma jumpsuit!" one fan tweeted hopefully, referencing the mysterious overlord organization that runs the island) and has managed to grip the imagination of a war-weary, economy-clobbered nation looking for relief.
(The Toronto Star headline this morning is very telling: "When it comes to country's future, Americans would rather be Lost.")
---