NBC pulls plug on Jay Leno show's prime time experiment
NBC announced Sunday that it is planning to move Jay Leno's talk show to 11:30 p.m. Conan O'Brien and Jimmy Fallon would shift back a half hour – if they accept the deal.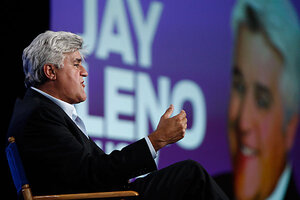 Matt Sayles/AP/File
NBC has confirmed that as of Feb. 12 – coinciding with the debut of Vancouver Olympics coverage – talk show host Jay Leno has been given a pink slip for his Monday-to-Friday, 10 p.m. time slot.
Sunday morning, at a press conference in Pasadena, Calif., NBC/Universal's chairman of television entertainment, Jeff Gaspin told reporters that all three of the peacock network's late-night hosts are taking the weekend to consider the offer now on the table, namely that Mr. Leno retake his 11:35 berth, while Conan O'Brien shifts to 12:05 A.M. – retaining his title as host of "The Tonight Show."
In this new scenario, Jimmy Fallon will move to 1:05 A.M.
As for what the network would drop into the newly-vacated 10 p.m. slot for all five nights of the week, Mr. Gaspin offered little more than speculation that the network might regain two hours of dramas and a mix of news and reality shows.
For now, he adds, NBC is going "back to basics."
---