Martin Luther King Jr. Day: Obama's impact on race in America
On Martin Luther King Jr. Day a year after the first African-American president took office, Americans appear to have mixed views about the impact of President Obama's election on race relations.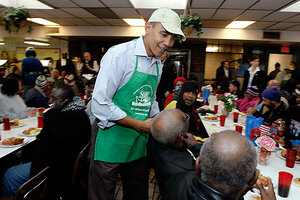 Jonathan Ernst / Reuters
For civil rights activist Si Kahn, the evolution in racial relations in America can be summed up by a visit to Mert's Restaurant in downtown Charlotte, N.C. A nouvelle soul food place where you can dine to the sound of sweet Southern gut-bucket blues, the restaurant is packed these days with "a wonderful mix" of young people, he says.
"So many shades, shapes, sizes, facial characteristics, languages, accents," he continues, "Across lines of race and ethnicity, they hold hands, embrace, kiss."
Though President Obama has been in office for just a year, "a tiny blip in time for an entire culture to evolve, Mr. Kahn sees noticeable changes in American race relations. Racism among young people especially, he says, continues to fade.
On Martin Luther King Jr. Day, a year after the inauguration of America's first black president, historians and civil rights activists offer mixed assessments about Mr. Obama's impact on race relations in the country. Some like Mr. Kahn are overwhelmingly positive. But others say there's still a long way to go.
The mixed assessments show up in several surveys and polls. A recent Pew Research survey found a dramatic increase in how black Americans felt about their place in society. Four out of 10 black Americans say they are better off now compared with 2007, when only two in ten felt that way.
---