Brett Favre: Hero or villain?
Brett Favre's crucial interception in Sunday's NFC championship game ended a season in which the Minnesota Vikings quarterback has been both lauded and loathed.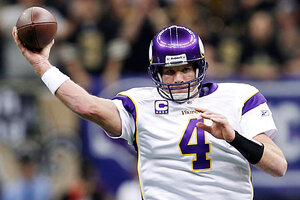 Jeff Haynes/Reuters
Is football graybeard Brett Favre a hero or a villain?
Over the course of Favre's extraordinary season, it is a question that had almost been forgotten. But after a last-second interception in the NFC championship game Sunday, which deprived his Minnesota Vikings of the chance to kick a game-winning field goal and advance to the Super Bowl, Favre has once again put himself at the center of a sporting world determined either to love him or loathe him.
Last summer, there was Favre's chronic indecision (and some would say deceit) about whether he would play again, followed by his eventual decision to join the Minnesota Vikings – the archrival of the team where he had spent virtually all of his Hall of Fame career, the Green Bay Packers.
This was, it seemed to many, rank villainy.
Yet by Sunday evening, a different Favre had emerged, one who had taken a team that had previously been less than the sum of its parts to the doorstep of the Super Bowl. He had played the best football of his career, turning untested receivers into stars along the way, and becoming the heart and soul of his new team.
He was every bit the hero.
---