Los Angeles reins in medical marijuana shops
The Los Angeles City Council passed an ordinance Tuesday capping the number of medical marijuana dispensaries and placing restrictions on where they could be located.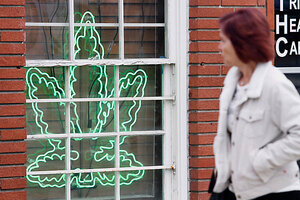 Richard Vogel/AP
The Los Angeles City Council approved an ordinance Tuesday that will close most of the medical marijuana dispensaries set up in the city in recent years.

More than 600 pot dispensaries have opened in the past 10 months. But the new law, which passed 9-3, caps the number of permitted dispensaries at 70 and provides strict rules for where they can operate.
Medical marijuana shops must now be at least 1,000 feet from churches, libraries, schools, playgrounds and other "sensitive" areas.
Advocates of medical marijuana criticized the new restrictions for limiting patient access to medicine, but welcomed the ordinance as a sign that medical pot dispensaries were here to stay.
"The L.A. ordinance marks an important advance for the legalization of medical marijuana in the nation's second largest city," says Dale Gieringer, state coordinator for the National Organization for the Reform of Marijuana Laws (NORML).

While the ordinance is not a model for other states, since it is tailored to the peculiarities of California law, "it is an example of how the popular demand for medical marijuana can be legally accommodated by local governments," Mr. Gieringer adds.
The ordinance is good in some ways, says Richard Lee, president of Oaksterdam University, founded in 2007 to provide training for the cannabis industry. "Cannabis should be regulated and taxed, and will generate jobs and income like other commodities," he says.
---