Is Sarah Palin right? Did feminist groups overthrow the Tebow ad attack?
Sarah Palin defended the Tim Tebow ad against abortion. Feminist groups objected to it, but attacking an ad that tells the story of a woman's decision not to have an abortion could backfire.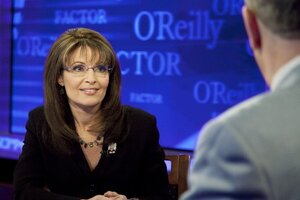 The Fox News Channel's O'Reilly Factor/AP
The National Organization for Women is in full third-and-long mode, first demanding that CBS withdraw an antiabortion ad featuring ex-Florida QB Tim Tebow, and then going after former Alaska Gov. Sarah Palin for calling the ad "pro-family" and "empowering [for] women."

But while groups like NOW are attacking Mr. Tebow, CBS, and the conservative Focus on the Family organization that underwrote the ad, some pop culture experts are saying that feminist groups may have overreached in their reaction to an ad they haven't actually seen.

"The protest against the Tebow ad is probably an enormous overreaction that probably did more to get Focus on the Family out into the public eye than it would have if they just let it be," says Robert Thompson, director of the Bleier Center for Television and Popular Culture at Syracuse University. At the least, he says, "there were miscalculations on the part of [abortion rights groups]. You always show your hand when you make a complaint about something you've never seen. That's not an intelligent way to approach it."
---
Follow Stories Like This
Get the Monitor stories you care about delivered to your inbox.