Tim Tebow Super Bowl ad: a Pandora's box for TV sports?
Now accepting advocacy ads that hew to evolving 'norms,' CBS reverses its previous policy and shakes up Super Bowl Sunday. The flip side: Events from Super Sunday to the Daytona 500 could become a parade of in-your-face social commentary.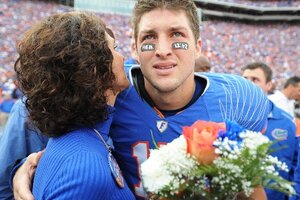 Phil Sandlin/AP/Pool/File
The decision by CBS to reverse its policy of refusing advocacy ads for the Super Bowl has erupted into controversy over the Tim Tebow antiabortion ad, which in turn touched off a meaning-of-feminism debate between Sarah Palin and the National Organization for Women.
 
Expect lots more where that came from.
 
For starters: An ad for ManCrunch, a gay dating service whose tagline is "Where many, many, many men come out to play," is now being reviewed for appropriateness by CBS. The ad features two men watching football who turn to each other and start making out, to the shock of a third buddy.
 
The combination of the CBS policy change (approved by the NFL), media companies desperate for cash, and last week's Supreme Court ruling on campaign advertising all but ensures that America's sports-watching experience is about to be inundated by political messaging, pop culture experts say. 
Open door for advocacy groups?
---