Why Tebow and not gay dating ad? CBS on Super Bowl hot seat
Gay groups are calling CBS homophobic for agreeing to air an antiabortion ad featuring Tim Tebow and not the ad for gay dating website ManCrunch. By changing its policy on advocacy ads, CBS invited the outrage.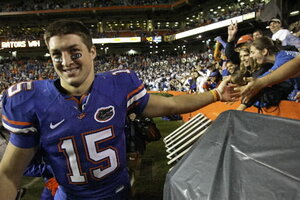 John Raoux/AP/File
By agreeing to show an "uplifting" antiabortion ad and rejecting a Super Bowl-style ad (read: funny) for a gay dating site, CBS is already feeling the effects of its decision to air "advocacy" ads for the first time on Super Sunday.

Working in a tough advertising climate, CBS surprised many Americans by explaining a new policy on advocacy ads after news emerged that it had agreed to show an antiabortion ad featuring Florida QB Tim Tebow and his mom, Pam.
That decision caused an uproar over the ad itself, the sponsor (the conservative organization Focus on the Family), and the prospect of politics seeping into a three-hour block where most Americans are trying to escape from the daily grind.
CBS opened itself to criticism
---