At Super Bowl, The Who's Townshend dogged by child-porn arrest
Child-advocacy groups in Florida are protesting Sunday's Super Bowl, saying the NFL was wrong to invite rocker Pete Townshend of The Who to perform at halftime. They cite his 2003 arrest for accessing child porn online. He urges critics to 'look at bit further' at his case.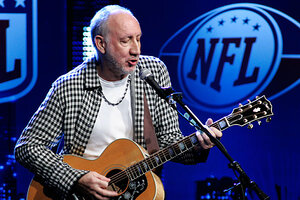 Brian Snyder/Reuters
Pete Townshend's 2003 arrest for accessing child pornography online is causing some child-protection advocates to protest this Sunday's Super Bowl and to call for the resignation of NFL Chief Operating Officer Roger Goodell.
Mr. Townshend is the British rock guitarist and songwriter in The Who, which is headlining the halftime entertainment show at Land Shark Stadium in Miami. Two groups in south Florida, Child AbuseWatch and Protect Our Children, are asking the NFL to ban the band from playing Sunday and for Mr. Goodell to resign. The latter group also sent out 1,500 "sex offender advisory" postcards to homes and schools in the Miami area, warning of Townshend's presence there.
On his organization's website, Child AbuseWatch founder Evin Daly wrote that "even someone looking for a job as a groundskeeper at Land Shark stadium wouldn't get hired with a sex offender status in his past; why then does Townshend?" Mr. Daly did not respond to requests for a comment Friday.
The controversy comes from Townshend's arrest in 2003, when the FBI discovered he was one of 6,000 Britons who accessed and used a credit card on a child-pornography site in Texas. He pleaded guilty following his arrest and, while he was cleared by a subsequent police investigation, his name was placed on a sex offender's watch list in his home country for five years.
---