Dockers free pants ad: a Super Bowl spot that worked
The Levi Strauss ad on Super Bowl Sunday apparently enticed a lot of people to search online for how to enter to win a pair of Dockers free pants.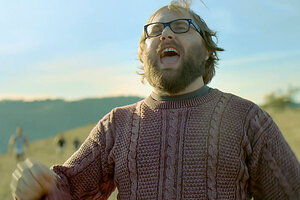 Dockers / AP
Maybe people are rushing to stock up on Snickers bars after seeing the catchy TV ad Sunday night, but by one measure the Super Bowl ad that got viewers taking action after the game is the one for Dockers pants.
The ad incited men to go for a walk in the hills wearing only underwear from the waist down, joining other males in song. Well, that was what the ad showed.
But it actually was designed to lure American males into signing up for a chance to win a free pair of pants. With thousands of $30 dollar Dockers at stake, apparently plenty of men are interested.
As of Monday morning, the phrase "Dockers free pants" was the top-trending search term on the leading search website, Google. That search was closely followed by other Bowl-related searches. People want to rewatch the top-ranked "Betty White" Snickers spot and other ads aired during the game, but only after they try for their free pair of Dockers. (To see a photo gallery of Super Bowl ads, click here.)
The ad for Dockers, made by Levi Strauss & Co., scored low with viewers, according to a USA Today ad meter that tracked the popularity of the Super Bowl ads.
---