New Orleans at the ready to help Haiti rebuild
Five years after Katrina devastated their city, New Orleanians are putting their knowledge and experience to use in Haiti.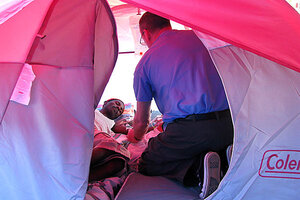 Courtesy of Michael Beauford/Haiti AHDH
Marie Jose Poux is a hospice nurse in New Orleans, but she was born in Haiti. Ms. Poux was in Port-au-Prince on Jan. 12 when the earthquake struck, and she spent the next two weeks lending what help she could to the ravaged city.
"My soul is not here [in New Orleans]. It remains doing what I was doing in Haiti," says Poux, who runs a charity, Hope for Haitian Children, from her home in New Orleans' Treme neighborhood. "I saw south Florida after it was hit by hurricane Andrew, and New Orleans after Katrina, and New York after 9/11. And this is like all three of those times 100."
Haiti's cataclysmic earthquake has struck home in New Orleans, which itself is still recovering from the 2005 hurricane and flood. For a time, the city's survival was in doubt, but with much aid, it's come a long way. Now, many New Orleanians want to put their knowledge and experience to use in Haiti, helping others in dire need.
"We've learned some powerful lessons here about recovering from disaster, and we want the Haitian people to benefit from our experience," says Jacques Morial, a lawyer and community activist who has worked with residents in New Orleans' devastated Lower Ninth Ward. "We learned that after a disaster like this, people need the basics of food, shelter, and medical attention. But we also learned after Katrina that when the rebuilding begins, the stakeholders in a community need to be included in decisionmaking and self-governing."
---