Mardi Gras spirit fills New Orleans Saints victory parade
Loyal New Orleans Saints fans stuck with their team through years of lousy records. Now, says Debby Wood, who joined the celebrating throng, 'It's like the prodigal son finally came home.'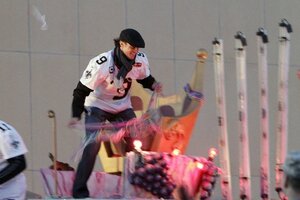 Bill Haber/AP
New Orleans has had a few days to get used to its newfound gridiron hero status, but if Tuesday night's Super Bowl parade is any indication, the city –indeed, the entire state as well as the South in general – will be celebrating the 43-year old franchise's first NFL championship for a long time.
As the smell of barbecue filled the air and the sounds of competing boom boxes, high school bands, and car stereos rang from the buildings, thousands of people lined the streets to cheer, welcoming the Saints home to a Mardi Gras-flavored tailgate party. Gold confetti littered the air as "the boys" waved and threw beads from atop their perches on borrowed floats.
The parade culminated at the foot of Convention Center Boulevard, where Sens. Mary Landrieu and David Vitter, Gov. Bobby Jindal, and Mayor Ray Nagin toasted the team with champagne.
---