Suburbs: The new face of America's poor?
Suburbs, not inner cities, are home to the largest and fastest-growing poor population in the US. Unfortunately, they don't often have the services to help.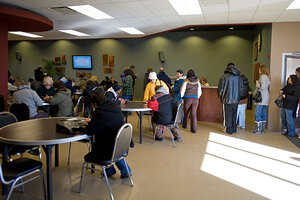 Stephen J. Carrera/Special to The Christian Science Monitor
David Knox sits at a suburban Chicago food pantry, scanning local headlines that seem less dire than those that might sum up his own life at the moment: His home is in foreclosure. He lost his job in September. His wife is on disability after a car accident.
Mr. Knox lines up once a month at a food pantry in Hoffman Estates, a middle-class suburb just a short drive from the biggest mall in the area and the global headquarters of Fortune 500 companies like Motorola, McDonald's, and Kraft Foods. Knox, a computer programmer, used to be part of that prosperous world. But at 53 and with skills he says are rapidly becoming obsolete, he doubts his ability to climb back in.
"I'm older, and in a lot of cases they want to hire younger people," he says.
Knox, once a middle-class suburban homeowner, may be the new face of American poverty. The suburbs – not the inner cities – are now home to the largest and fastest-growing poor population in the US, according to a report by the Brookings Institution in Washington, D.C. The population of poor jumped 15 percent between 2000 and 2008 – reversing the previous decade's gains – but the suburbs saw the biggest increase, climbing by 25 percent. By 2008, according to Brookings, the suburbs were home to one-third of the nation's poor.
Many are first-generation migrants struggling to find low-wage jobs, but others are middle-class professionals fallen from fortune.
---
Follow Stories Like This
Get the Monitor stories you care about delivered to your inbox.