Five reasons to resist the Valentine's Day hoopla
Gushy cards and all, Valentine's Day has become a $14 billion extravaganza in which Cupid's mark is your wallet. Here are five reasons to assert your independence from the goo of it all.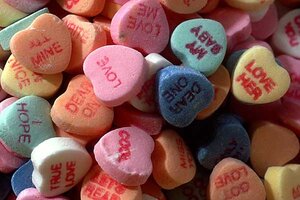 Frances M. Roberts/Newscom
Ah, Valentine's Day.
It all started innocently (if rather grotesquely) enough some 1,500 years ago in ancient Rome, and has since exploded into a $14 billion extravaganza of gushy cards, pricey dinners, flowers fresh from Ecuador, and virtually anything else retailers can shape into a heart (a Black and Decker power drill with heart-shaped bits?) – with overnight delivery for the neglectful. Some lovebirds may yet manage to find a smidgen of romance in the holiday, but more often than not, Cupid's mark is your wallet.
Here's a sampling of facts about Valentine's Day, especially selected for those who resist the holiday's overt commercialism and are marshaling arguments for a boycott.
• Its history is steeped in goat flesh and blood. Valentine's Day started as an ancient Roman fertility festival celebrated in the depths of winter. According to legend, boys would scurry through town with fistfuls of sacrificed goat flesh dipped in blood, which they slapped on women to "promote" fertility and secure partners. Be still, my heart.
• Wondering what your neighbor is spending on his Valentine? The average American is expected to spend $103 on gifts, meals, and entertainment. Of that total, spouses are spending $63.34 on each other, reports National Geographic. (That doesn't count the emergency valentine card from free print-your-own websites. If you got one of those, just know that the sender at least saved some money.)
---