Westminster Dog Show 2010: Why it's better than Winter Olympics
In Monday's TV ratings showdown, the furry adorableness of the Westminster Dog Show 2010 takes on the international glamour and athletic prowess of the Winter Olympics. Here's why the dogs should win.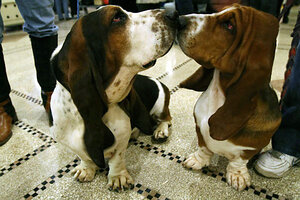 Tina Fineberg/AP
The Westminster Dog Show is on TV tonight. So is the Winter Olympics. Which are you going to watch?
On the one hand, NBC in prime time will be showing pairs figure skating and snowboards. On the other, Westminster will have the hound, toy, non-sporting, and herding groups, starting on the cable USA Network (owned by NBC Universal), then shuffling over to CNBC later in the evening.
The human-based competition will probably win this ratings smackdown. After all, it's got glamorous athletes cavorting on snow and ice. Westminster? A bunch of people in tweed walking their dogs indoors.
That's the conventional wisdom, anyway. But for a significant minority of American households, salukis are a bigger draw than skaters.
Here are some of their reasons why:
• Dogs are cuter than Lindsey Vonn. That flowing hair! Those gleaming teeth! There's nothing like an Irish setter bounding around the ring.
US skier Lindsey Vonn is very attractive. But walk a long-haired dachshund down the street, and people will spontaneously coo, "Awww, she's so cute! Look at the hair in her ears! Who's a good dog? Yes you are! You're such a good dog!"
• Dogs are happier than Scott Hamilton. Dogs live for the moment. The tension of competition does not furrow their brow. This is how dogs emote: "Time for a walk? My favorite thing! A judge? My favorite thing! Did I lose? Still my favorite thing!"
---