Westminster dog show: Why Sadie the Scottie is so cute
The Westminster dog show winner owes her adorable walk and diminutive stature to one copy of a gene. In general, though, from a pampered Poodle to a lovable shelter mutt, dogs are 'pretty much identical,' canine geneticist explains.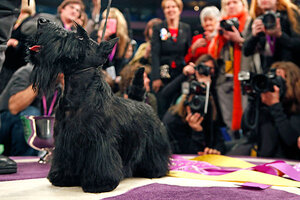 David Goldman/AP
Westminster Dog Show 2010 winner Sadie the Scottish Terrier is a little loaf of black furry adorableness. Short, with soulful eyebrows, a silky coat, and an exclamation point of a tail, she looks nothing like the dogs she beat in the final round to capture Best in Show.
The Doberman? Tall, brown, fierce. The Whippet? Tiny, legs like sticks, not much hair to speak of. The Puli? Is that a dog, or a mop?
But variety is in the eye of the beholder. Where a spectator at Westminster sees many varieties of dogs, a scientist who studies their basic make-up might not. That's because, genetically speaking, dog breeds are almost the same.
"They're not that different. That really surprises people, generally," says Elaine Ostrander, a laboratory head at the US National Human Genome Research Institute.
Take Boxers and Poodles – two breeds whose genomes have been thoroughly analyzed.
"They're pretty much identical," says Dr. Ostrander, one of the nation's top experts in canine genetics.
A breed of dog is like a geographically isolated population of humans, she says. They will develop differences from their neighbors across the impassable mountain range, but they generally will be the same race.
For pure-bred dogs, the isolation is a product of breeding. A show Scottie must have two parents that were also recognized Scotties. Dobermans need not apply. At least, not if their progeny is to appear at Westminster.
Differences in dogs are caused by a small number of genes that produce a large effect. For instance, one reason Sadie the Scottie is so cute is because of her short little legs. Research has helped establish that breeds with such legs – Corgis, Dachshunds, Scotties, Bassets – all have one extra copy of a normal gene to thank for their diminutive stature.
This means that all these breeds are closely related.
"We know they got [short legs] from a common ancestor," says Ostrander.
---