Olympics top 'Idol,' but tape delays anger viewers
NBC's Olympic broadcast tactics have some scrambling to avoid 'spoilers.'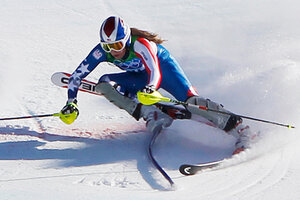 Mike Segar/Reuters
NBC's prime time Olympic programming handed Fox's "American Idol" its first second-place ratings finish since 2004 on Wednesday night, Nielson reported. But sports fans, not Fox executives, are the ones up in arms.
NBC's Olympics broadcast tactics have become a hot topic around the water cooler and with media watchers in recent days. US readers have been writing into news websites with anger, asking them to include "spoiler alert" messages about Olympic events that are over, but have not yet been broadcast by NBC.
Washington Post Managing Editor Liz Spayd told a reader, "We don't want to be the game spoilers, but when big news happens – an unexpected gold for the U.S., for example, we want it prominently visible at the site."
The episode and others like it highlight larger issues about changing society values in the Internet age, say several theorists. It speaks to the economic need of NBC to milk its exclusive-rights to coverage to recover its highest monetary return. And it spotlights a growing American penchant to experience sporting events live – defined as "not knowing the outcome" – whenever possible.
---