Tiger Woods apology: golfer promises a return to Buddhism
Appearing stiff but sincere, golfing great Tiger Woods apologizes to the world, and his family, for his 'irresponsible and selfish behavior.'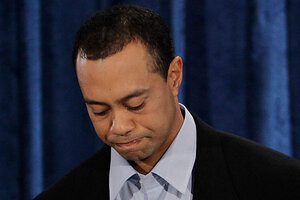 Eric Gay/AP
Tiger Woods took a break from his treatment for sexual addiction at a rehabilitation center in Mississippi on Friday to give the kind of mea culpa that therapists demand before progress can be made.
After acknowledging that he felt "entitled" to do basically whatever he wanted, the greatest golfer of all time said he was "deeply sorry" and told family, colleagues, and fans that "I have a lot to atone for."
"I ask you to find room in your heart to one day believe in me again," Mr. Woods said. (Oh, yeah, he also let the world know that he could return to the links this year.)
Yes, the speech – which lasted 11 minutes and was carried live by multiple TV channels and websites - was scripted down to the last belabored pause.
But its power – or cheese factor, take your pick – didn't come from the standard athlete's apology and the wipe of a tear (which Woods didn't do), but from the billionaire golfer attempting to give to the public, for better and worse, what they really wanted: a few glimpses into who he really is – including his arrogance, his concern for his family, and his decision to steer back toward the religion that shaped him as a person and athlete: Buddhism.
"Part of following this path is Buddhism," he said, citing the religion practiced by more than 300 million people worldwide. "Buddhism teaches that a craving for things outside ourselves causes an unhappy and pointless search for security, and it teaches me to stop following every impulse and learn restraint. Obviously, I lost track of what I was taught."
(Brit Hume will no doubt be disappointed. The Fox News personality urged Woods to embrace Christianity to overcome his problems.)
---