Bloom Box: Frequently asked questions
Bloom Energy officially announces its Bloom Box Wednesday. What is 'the power plant in a box,' how does it work, and can it deliver on its clean-energy claims?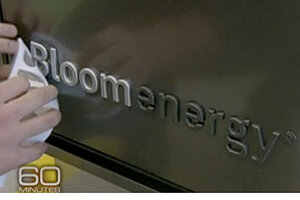 60 Minutes screengrab/CBS
Silicon Valley clean tech start-up Bloom Energy is generating buzz for its promise to deliver a power plant in a box to every American home by 2020. The company claims its invention, the Bloom Box, will revolutionize the energy sector and one day replace the traditional power grid.
Bloom Energy officially announces the Bloom Box Wednesday. Following is a closer look at the company and its anticipated product.
What is Bloom Box?
Bloom Box is a personal "power plant in a box" that is claimed to produce energy cheaply and cleanly with no emissions. It's made up of a collection of fuel cells, a kind of battery that uses oxygen, and fuel to produce electricity.
How does it work?
The Bloom Box's fuel cells soak up oxygen on one side of the unit and fuel on the other. The oxygen and fuel combine within the cell and produce a chemical reaction that produces electricity with no burning, combustion, or power lines, according to a "60 Minutes" report on CBS that aired Sunday night. But, as the Horizons blog pointed out, Bloom Box may emit CO2, depending on the fuel used to power the unit.
What's it made of?
Fuel cells are the building blocks of the Bloom Box. The cells are made of sand that is baked into tile-sized ceramic squares. Each cell is painted with green and black ink, sandwiched with metal alloy plates, and stacked into square bricks. Those bricks are housed in an outdoor-safe unit.
What sorts of fuel can it use?
---