Charges for using EMS: a California town's plan sows confusion
Tracy, California, made headlines when word incorrectly got out that it would charge $300 for each 911 call. Under a law passed last year, most households will pay less than $50 annually to offset the cost of emergency medical services.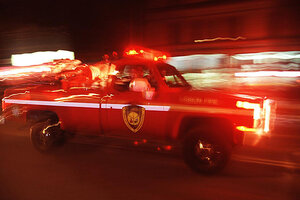 Newscom
The residents of Tracy, California, will soon be receiving a form in the mail to choose how they want to pay for an emergency medical service cost recovery fee program.
They will not – as has been widely reported – be charged a fee of $300 for merely dialing 911. The cash-strapped town approved the new law last June and has faced considerable confusion among residents who have misunderstood the policy's parameters. As late as this week, city council member Mike Maciel went on the "Fox and Friends" morning show to defend the program alongside an irate resident, when he realized through the on-air introduction that the show had gotten it wrong.
"Journalists have been ringing our phones off the wall and even our town residents didn't understand what we did, which shows the effects of viral misinformation," says City Manager Leon Churchill. He and Mr. Maciel explain that the city of 80,000 copied the language from a law already adopted by 17 other California cities, including Fullerton and Costa Mesa. "Yes, we are having financial problems like all of California, which is up to its neck in debt because of the economy," says Mr. Churchill. "But for some reason, this has morphed into reports that every time you dial 911, you get charged $300, which is untrue."
---
Follow Stories Like This
Get the Monitor stories you care about delivered to your inbox.