Illinois considers bill banning red-light cameras
Cities from Heath, Ohio, to College Station, Texas, have banned red-light cameras, as detractors argue that the safety measure actually causes accidents and is merely a revenue-generator. Now, Illinois is considering a bill that would make it the fifth state to do away with the cameras.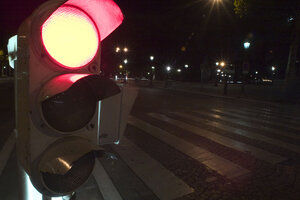 NEWSCOM/FILE
Red-light cameras meant to fine speeders through dangerous interjections are instead catching flack from activists and lawmakers who say they are unnecessary and actually create more accidents than they are meant to prevent.
A movement is under way in cities as large as Chicago and as small as Chillicothe, Ohio, to ban the cameras. Voters in communities as diverse as Heath, Ohio, and College Station, Texas, have rejected the cameras through referendums.
This week, the Illinois State Senate created a special subcommittee to study a bill that would eliminate the cameras throughout the state. State Sen. Dan Duffy (R) says the bill could move to the Senate floor in two weeks. If it passes, it would make Illinois the fifth state to ban the cameras.
[Editor's note: The original version of this story incorrectly listed the number of states who have banned red-light cameras.]
"Illinois citizens are very upset with the intrusive nature of the red-light cameras and are contacting their representatives in Springfield," Senator Duffy said in a statement. "The voters understand that the cameras raise lots of revenue for the government to spend, while improvement in safety is questionable."
---