SeaWorld 'killer whale' incident gives parents pause
The 'killer whale' accident at SeaWorld Orlando has some parents questioning the value of bringing children to zoos and animal parks.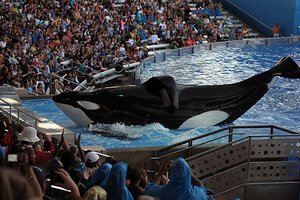 Newscom/File
The picture of a giant gorilla punctuates the parking-lot marketing sign here, offering combo prices for visitors to the Los Angeles Zoo and Long Beach Aquarium: Adults $29/Seniors $28/Children $17.
On the day after a 12,300 lb. male orca "killer whale" grabbed a trainer at the Orlando SeaWorld and killed her, the sign tips conversation toward the role entrance prices play in housing wild animals in captivity.
"Yes, I'm feeling a little guilty about the fact that we're the ones generating income for the people who do this," says Monica Coffy, a Bakersfield housewife pushing twin girls in a stroller. "I always felt a bit creepy looking at lions and elephants all cooped up in their stalls when my parents took me to the zoo. Now, I'm a parent following in their footsteps without thinking."
Maria Yamashita, walking hand-in-hand with her son, goes Ms. Coffy one better.
"To be honest with you, I don't think people should even keep dogs unless they have a big yard for them to play in. Dogs need a place to run wild."
---