Internet safety: Whose job to teach kids about it?
Debate persists on whose responsibility it is – parents or teachers – to instruct young people in Internet safety.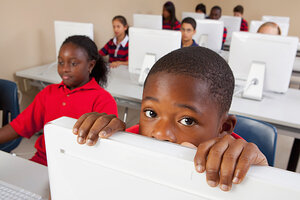 Newscom/File
The proverbial "village" could be doing a better job of raising America's young people to be safe and ethical online, a new cybersafety survey suggests.
Only about half of school administrators report that their districts require lessons in online safety as part of their curriculum. About four out of 10 teachers have taught nothing about security issues such as changing passwords or avoiding the dangers of social networking sites in the past 12 months. And three out of 10 have taught nothing about online ethics.
"There's no national consensus around what we are supposed to be teaching kids about being participants in a digital age," says Michael Kaiser, executive director of the National Cyber Security Alliance, a nonprofit that commissioned the survey.
As cyberbullying-linked student suicides and computer hacking continue to make headlines, nearly all educators and school technology coordinators agree it's important to teach about cybersecurity and cyberethics. But "there seems to be some confusion about who is supposed to be doing it and how much they're supposed to be doing," Mr. Kaiser says. The survey found that seven out of 10 teachers think parents should be primarily responsible for cybersafety lessons. But nearly half of school administrators say teachers should be primarily responsible.
---