Hanks and Spielberg see in 'The Pacific' a harbinger of today's wars
'The Pacific,' a 10-part HBO drama that launches Sunday, spins the tales of those who fought on the Pacific front in World War II. Creators Tom Hanks and Steven Spielberg suggest that the type of warfare waged on those little-known islands may give viewers a jolt of familiarity.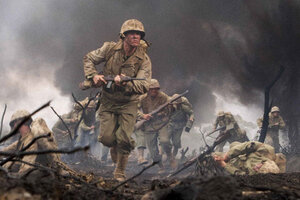 HBO
Tom Hanks' and Steven Spielberg's latest passion project – "The Pacific," a 10-part HBO drama about World War II across "the other ocean" – is their third joint effort about the Allied-Axis showdown, but that doesn't mean they embrace war. Rather, the dynamic duo of the 21st-century war genre has developed an abiding commitment to bringing history's lessons to modern audiences, especially those lessons that resonate with today's war-weary Americans, says Mr. Hanks.
The Hanks-Spielberg pairing has already yielded the film "Saving Private Ryan" and the HBO mini-series "Band of Brothers," both stylistically groundbreaking collaborations about World War II. "The Pacific," which launches on HBO Sunday at 9 p.m., looks to be an undertaking of equally epic proportions.
The story follows three young American marines who fight and survive battles on tiny islands with unfamiliar names against an enemy with whom they share no cultural references, says Hanks, who with Mr. Spielberg and main cast members spoke in January to television critics at an event in Pasadena, Calif.
---