New immigrants avoiding big cities, study finds
More new immigrants are settling in mid-size metropolitan areas like Detroit and Minneapolis, according to a study released Monday.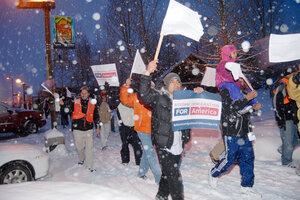 Mark Fox/Summit Daily News/AP
US immigrant populations are spreading out, a study released Monday found.
New immigrants and their US-born descendants are expected to grow by 117 million by 2050, making up 82 percent of the US population growth over that period, and will "have important implications for housing demand at a time when aging baby boomers are expected to retire and leave the housing market," the study predicts.
New immigrants who once flocked to the large "gateway" cities of Los Angeles, San Francisco, New York, and Chicago are now heading for smaller metropolitan areas like Detroit and Minneapolis, Colorado Springs, Colo., Sarasota, Fla., and El Paso, Tex., according to the the study, released by the Lusk Center for Real Estate at the University of Southen California. The census data used for the study didn't take into account respondents' legal status.
---