Ten things you should know about Census 2010
Census 2010 has only 10 questions, which should take about 10 minutes to fill out. Find out more about the census form headed your way.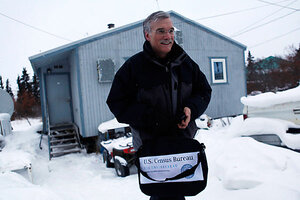 Carolyn Kaster/AP/FILE
One of the biggest and oldest surveys in America will hit mailboxes this week, and its results will inform countless decisions, from how federal funds are divvied up to how advertisers analyze their target audiences.
It's available in six languages, and anyone who doesn't participate may be slapped with a fine, per federal law.
Say hello to Census 2010.
Every 10 years, the government sends out its questionnaire to track US population and determine how to apportion seats in the House of Representatives.
This year, the government lined up a savvy $130 million campaign – complete with Super Bowl and Winter Olympics ads, a census-sponsored NASCAR race car, and a nationwide road tour – to encourage people to mail back their census forms. If every household mails back its form (more than 120 million have been mailed out), the government could save $1.5 billion in follow-up visits.
To save the government – and yourself – some dough, read on for more tips and trivia about the 2010 Census.
• 10 questions in 10 minutes. One of the shortest census questionnaires in history, the 2010 Census has only 10 questions, which should take 10 minutes to fill out, according to the Census Bureau. Among the questions asked: whether a resident owns or rents, as well as information about each household member, including name, sex, age, race, and relationship to the person filling out the form.
---