For more Americans, Grandma is moving back in
A record 49 million Americans lived in extended-family households in 2008, according to a study by the Pew Research Center. The recession, immigration, and delayed marriage are among the factors.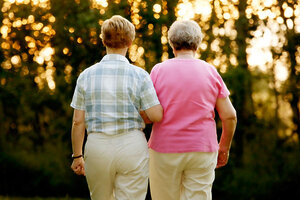 Photo illustration/Newscom
Tens of millions of Americans are sharing their quarters with grandparents, adult children, and grandchildren – and it's not just because of the economy, a report Thursday by the Pew Research Center shows.
A record 49 million Americans, or 16 percent of the population, lived in multi-generational households in 2008 – up roughly 33 percent from 1980. Between 2007 and 2008 alone, the study reported, the number of people living in extended-family households grew by 2.6 million.
"The multi-generational family household – the family form that had been prevalent up through century ago, then fell out of favor – has come back," says Paul Taylor, executive vice president of the Pew Research Center.
And although the recession is partly responsible, the trend also reflects societal and demographic changes such as increased immigration and delayed marriage.
"It's a window into our times," Mr. Taylor says. "This trend captures demographic change in terms of immigration and social and cultural changes. And it's a reflection of the harsh impact of this recession."
In 1940, 25 percent of Americans lived in extended-family households, according to the Pew report. That figure dropped steadily and bottomed out in 1980 at 12 percent.
---
Follow Stories Like This
Get the Monitor stories you care about delivered to your inbox.