California may extend smoking ban to state parks and beaches
Targeting toxic litter, the California Assembly voted to broaden the reach of the state's smoking ban Monday. If Gov. Schwarzenegger signs the bill, other states could follow.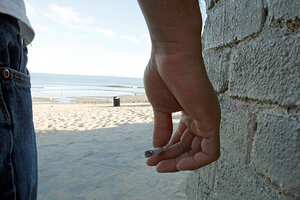 Reed Saxon/AP
Sixteen years after California set a national precedent by instating a smoking ban in restaurants, lawmakers have voted to outlaw smoking at 278 state parks and beaches in what experts say is one of the nation's most far-reaching regulations of tobacco use.
The measure, SB 4, sponsored by state Sen. Jenny Oropeza, allows for a fine of $100 for those caught smoking at a state beach or in a designated section of a state park. Smoking will still be allowed in some parking lots and campgrounds. Backers say they were driven more by the threat of fire and the toxicity of cigarette butts on the ground than by the issue of clean air.
"This is a chance for California to continue to lead the country in protecting its irreplaceable state parks from forest fires," says Ray Sotero, chief spokesman for Sen. Oropeza. The bill has not yet been signed by Gov. Schwarzenegger, but Oropeza's office says it expects him.
"We want to make it clear that this is an attempt to protect the environment at beaches and parks that is long overdue," says Mr. Sotero. Previously, about 100 localities have enacted such laws, which has merely turned those that didn't "into ash trays," according to Debra Kelley, senior director of advocacy and health initiatives for the American Lung Association (ALA) of California.
She points out that cigarette butts do not biodegrade and contain 200 known poisons.
---