No Child Left Behind embraces 'college and career readiness'
The current buzz phrase in education is 'college and career readiness.' It's even part of Obama's vision for a revised No Child Left Behind law. But what does it mean? Is it real progress in education reform?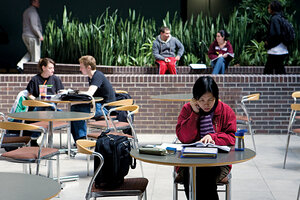 Taylor Weidman/The Christian Science Monitor
Read any article on education these days, and chances are you'll come across the words "college- and career-ready." It's the catchphrase du jour – the goal of almost every education reformer on both the right and the left.
It's also the aim of the Common Core State Standards for student academic achievement across America, a draft report released earlier this month by the National Governors Association and the Council of Chief State School Officers.
In addition, the Obama administration's recently released proposal for rewriting the No Child Left Behind (NCLB) Act of 2001 calls for doing away with the 2014 goal of 100 percent proficiency in reading and math in favor of getting all students college- and career-ready by the time they graduate from high school.
Many education advocacy groups have already shifted their focus from simply raising graduation rates to making sure that students who graduate are ready for the next step.
But it's not always clear how such a shift toward college- and career- readiness standards would change the current education system.
What does 'college- and career-ready' mean?
Loosely, it means ensuring that students are prepared for college-level courses upon matriculation, or for a job that can support a family.
---