Voyage of recycled Plastiki to sail through Pacific garbage patch
The Plastiki, a boat made from recycled plastic, is sailing from San Francisco to Sydney to raise awareness about ocean-borne plastic litter, particularly in the Pacific garbage patch.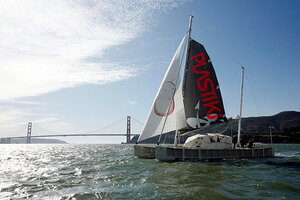 Robert Galbraith/Reuters
A catamaran with recycled plastic sails and a hull full of reclaimed soda jugs cast off the California coastline last weekend on a social mission to bring attention to the tons of other plastic floating around in the ocean.
The recycled boat, called the Plastiki, and its 11,000 nautical mile journey from San Francisco to Sydney was the brainchild of adventurer and environmentalist David de Rothschild, of the British Rothschild banking family.
Mr. de Rothschild's high-seas crusade comes as there's growing attention on the world's oceans. Earlier this month, "The Cove," a documentary on the mass killing of dolphins in Japan, won the Academy Award for best documentary. And in recent weeks, Capt. Charles Moore, who is credited with first bringing attention to the "Great Pacific Garbage Patch," has been making the rounds on late-night TV to raise awareness about plastic pollutants.
---