Mystery monkey of Tampa Bay becomes a Facebook phenomenon
At last count, the mystery monkey of Tampa Bay – who has been avoiding (not outwitting) Florida authorities for a year – has 31,000 Facebook fans.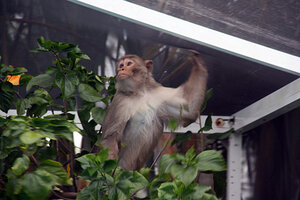 Renee Barth/AP/St. Petersburg Times
A fugitive monkey living for a year on fruit and trash in the Tampa suburbs is fast on his way to becoming a major cult hero with his own Facebook page and a growing list of devoted fans.
"Don't let them catch you!!!!! Run like the wind little monkey," writes Alexa on the Mystery Monkey of Tampa Bay Facebook page.
"Best wishes all the way from South Korea. Stick it to the man," writes Jonathan, another supporter.
The object of all this attention is a rhesus macaque monkey which has been spotted for the past year in backyards from Tampa to St. Petersburg.
A Florida wildlife tracker had been hot his trail for months, but the little guy is fast and strong and has a knack for pushing the dart away before the tranquilizer can take effect.
The effort is attracting international attention, and most of the monkey's fans are apparently opposed to efforts by Florida officials to catch and cage the elusive primate. Many are actively rooting for the monkey to, well, make a monkey of the would-be trappers.
Atop the evolutionary tree?
Florida officials are beginning to feel a bit defensive.
"This monkey is not outsmarting us," says Gary Morse of Florida's Fish and Wildlife Conservation Commission. "This monkey is getting away based on its athletic ability developed over years and years of evolution."
---