'Open carry' gun laws vex Starbucks, again
Starbucks shareholders on Wednesday were the target of activists who want the coffee chain to ban customers who display firearms. So far, Starbucks has an open door policy in states with 'open carry' gun laws.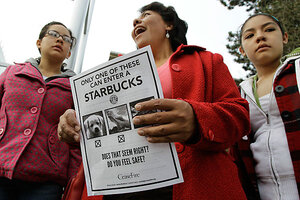 Elaine Thompson/AP
Outside the Starbucks annual meeting Wednesday in Seattle, Wash., Ralph Fascitelli was one of the antigun-violence advocates handing fliers to the company's shareholders. Some fliers showed a puppy, bare feet, and a gun.
Of the three, says Mr. Fascitelli, president of Washington Ceasefire, only firearms are allowed in Starbucks coffee shops.
The coffee chain remains caught in the crossfire of a dispute over so-called "open carry" laws, which give gun owners the right to wear unconcealed weapons, often without a permit.
After activists in a loosely organized open carry movement in California began gathering in Starbucks outlets, the Brady Campaign to Prevent Gun Violence called on the company to ban guns from its shops, much the same way California Pizza Kitchen and Peets Coffee and Tea did after similar meet-ups in their cafes. Starbucks resisted. The company said, instead, that it would "comply with local laws and statutes" and that the "political, policy, and legal debates around these issues belong in the legislatures and courts, not in our stores."
While Starbucks' stance has made it the favorite coffee shop among gun rights advocates, gun control activists did not relent and have continued to pressure the largest coffee chain in the world.
Fascitelli says his group found many receptive shareholders at the company's Wednesday meeting and is hopeful the issue will be raised with Starbucks executives.
---