Want to see a 3D movie? Ticket prices go up 20 percent.
Ticket prices for a 3D movie rose Friday in markets across the US. Get ready to spend more for 'How to Train Your Dragon' and 'Avatar.'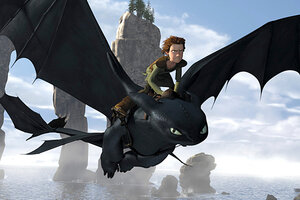 Dreamworks Animation SKG Inc./AP
Don and Muffy Sorenson are putting on a good face for the kids.
"It's fine, it's fine," says Mr. Sorenson, a file clerk, standing in line at the Universal Studios multiplex for "How to Train Your Dragon" in 3-D. "If you want to have a good time, you have to pay for it."
On Friday, the ticket price for a 3-D movie at that theater rose to $15 – a $1 increase.
"I don't know how much more of this we can take," whispers his wife.
In markets across the United States, ticket prices for 3-D movies jumped more than 20 percent Friday. Chains including Regal Entertainment Group, Cinemark Holdings Inc., and AMC Entertainment Inc. are trying to capitalize on the hits "Avatar" and "Alice in Wonderland."
In Danvers, Mass., that means prices for 3-D movies are rising from $14.50 to $17.50. And at a Seattle multiplex, a regular 3-D showing is now $15, up from $13.50. For IMAX 3-D, it's now $17, up from $15.
---