Conan O'Brien finds late-night home on TBS: Will he get last laugh?
Conan O'Brien will return to late-night TV in November, on basic cable's TBS. Some analysts see it as a liberating move. Others say he will have to start from scratch to build an audience.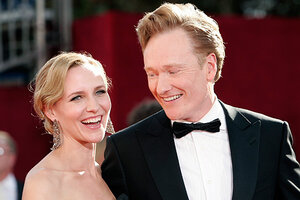 Danny Moloshok/Reuters/File
Comedian Conan O'Brien's surprise announcement that he will move to TBS on basic cable this November – jostling not only with broadcast icons Jay Leno and David Letterman but also cable's own jokesters, Jon Stewart and Stephen Colbert – is drawing mixed reviews.
The announcement ends months of speculation about where Mr. O'Brien would land. He was booted out of NBC's 11:35 p.m. slot in February so that Mr. Leno's "The Tonight Show" could slink back into it after its disastrous foray into prime time.
The late-night line-up, of course, is about more than ratings and who is king of the comedy hill. Many Americans today prefer to receive their news and current events in that format, so its influence in shaping opinion is significant. "While journalism may be the Fourth Estate, late-night comedy has become the fifth estate," where ideas – and sometimes political figures themselves – come to be seen and heard, says Robert Thompson, founder of the Bleier Center for the Study of Popular Television, at Syracuse University in New York.
---