Hospital visitation, latest step in delicate dance on gay rights
Gay rights activists cheered Obama's memo on hospital visitation rights, but the president faces increasing tension with constituencies who helped elect him and expected faster results.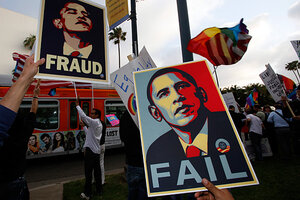 Damian Dovarganes/AP
President Obama's directive to give same-sex couples visitation rights in hospitals represents the latest effort by the administration to advance the agenda of an interest group that worked hard for his election – and has expressed frustration over the pace of change.
The president's memorandum, released Thursday night, directs the Department of Health and Human Services to draft rules requiring hospitals that accept Medicaid and Medicare funding to "respect the rights of patients to designate visitors" and representatives authorized to take part in medical decisionmaking. The directive's central focus is same-sex couples, though other categories of people would also be covered, including widows and widowers who choose to designate friends.
Gay rights activists praised Mr. Obama over the move, perhaps the biggest expansion yet of gay rights since his election. But they also made clear that their agenda remains long, and includes the repeal of a federal law barring recognition of same-sex marriage and a ban on military service by openly gay people. Obama opposes gay marriage, but supports civil unions that afford the rights of full marriage.
The president's tensions with the gay community are similar to those between him and other constituencies – including blacks, Hispanics, women, and labor – that supported his campaign and expected big things after eight years of the Bush administration. Analysts see two factors at play: one, Obama's deliberative style, and two, the immense issue agenda he has taken on, a combination of his own goals and inherited problems, including two wars and an economic crisis.
---