Conan O'Brien on '60 Minutes': a TBS tune-up
Conan O'Brien, appeared on television Sunday night for the first time since his abrupt departure from NBC's 'Tonight Show.' Cultural buzz, not ratings, will fuel his success, observers say.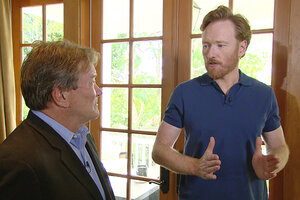 CBS/AP
Reviews of Conan O'Brien's Sunday night outing on CBS's venerable "60 Minutes" news magazine show run the gamut from dubbing it a self-indulgent fiasco, to a great job – warm, human, and honest.
The appearance won the night with more than 13 million viewers tuning in to hear what Mr. O'Brien had to say about his abrupt departure from NBC earlier this year. This robust "gawker" turnout is in contrast to the low ratings he garnered during nearly all of his short-lived tenure as host of NBC's "The Tonight Show." Expect even tinier audiences for his new program set to debut on little-known cable channel TBS in November.
Yet O'Brien continues to embody the most cutting edge, boundary-breaking comedy, say media watchers and fellow comedians alike.
"There is a growing gap between what is culturally relevant and what will draw ratings," says Syracuse University media expert Robert Thompson. The red-haired comedian has been a standard-bearer of that split, he points out, noting that it took years for Conan to find his "voice" when he first arrived at NBC in 1992, yet his cultural impact has been enormous.
---