Tony nominations 2010: angst over nods to Hollywood stars
The American Theatre Wing's 2010 Tony nominations list, released Tuesday morning, includes Hollywood heavy-hitters like Denzel Washington and Scarlett Johannson.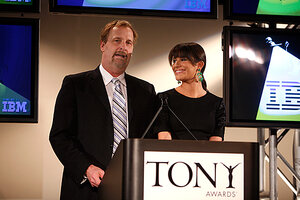 Jason DeCrow/AP
Nominations for the 64th annual Tony Awards came out this morning, and supporters and critics alike are pointing to the high number of red-carpet, Hollywood names on the list: Denzel Washington, Scarlett Johansson, Jude Law, Kelsey Grammer, and Christopher Walken among them. The program has been nationally televised since 1967 but, say theater professionals and longtime observers, the trend toward big-name movie stars sends a dire message about the future of legitimate theater.
"It's sad," says Howard Suber, professor emeritus of the UCLA School of Film, Theater and Television.
"The film industry used to be a parasite on theater," he says, hearkening back to the early days when only those who failed on the legitimate stage would go to work in Hollywood. "But now theater is a parasite on the film industry, a trend that is being accelerated by the demands of the TV show that needs a red carpet." Mr. Suber, who has taught for 45 years and regularly flies to New York to attend the theater, points out that the Tonys telecast is modeled on the Academy Awards show, and says that as all awards shows have been doing well lately in the ratings, "why shouldn't the theater try for the same thing?"
---
Follow Stories Like This
Get the Monitor stories you care about delivered to your inbox.