In Chicago, can community involvement combat gang violence?
An incident-filled spring triggers talk of how community involvement, perhaps in addition to more police on the streets, can combat gang violence.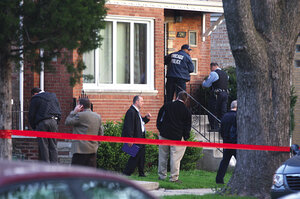 Alex Garcia/Chicago Tribune/AP
The challenges posed by gun violence in Chicago came into sharp focus last month with two incidents.
On April 12, a 17-year-old was gunned down. As he lay dying, he refused to tell police the name of his murderer.
Then on April 21, a bullet killed a 20-month-old girl as she sat in a car. The alleged gunman, who turned himself in, reportedly intended to shoot her father.
Heightened gang violence and an unusually warm spring are both being blamed for a rise in homicides in the city, particularly on the South Side. By late last month, the homicide count for the year had reached 116 – 15 percent more than for the same period in 2009.
As Chicagoans mourn the multiple tragedies, they're asking: What needs to be done to stem the violence?
Two state lawmakers suggested to Illinois Gov. Pat Quinn (D) that the National Guard might be needed to curb the violence. Governor Quinn, as well as Chicago Mayor Richard M. Daley, dismissed that idea.
Are more police needed on the streets? A number of people, starting with officers themselves, have called for this. Others, however, view such a call as rhetoric.
For many people, a deeper solution lies in more community involvement. At the least, they say, the code of silence that the dying 17-year-old observed needs to be broken. Another key could be more people joining hands to help prevent violence.
---