As 'Iron Man 2' showtimes fill up, Hollywood hunts next comic book hero
'Iron Man 2' showtimes are selling out fast. How does a lesser-known comic book character become a multimillion-dollar movie franchise? Star power, a solid story, and a little help from the real world.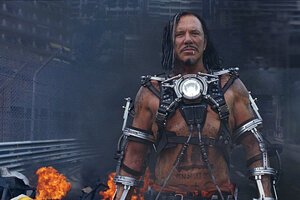 Paramount Pictures/AP
Robert Downey Jr.'s superhero character, now in its second outing in "Iron Man 2," was not a well-known figure from the Marvel comic book stable.
But the roguish Tony Stark's leap to the silver screen has paid off handsomely for the company, now owned by Disney, indicating to movie executives all over town that the appetite for superheroes is healthy.
The challenge they now face, with most of the major figures already deployed onscreen – think Batman, Superman, Spiderman, The Hulk, X-Men – is how to gauge which of the thousands of less-familiar comic book super heroes from decades past have the power to duplicate the box-office bravura of this weekend's magnetic movie magnate. ("Iron Man 2" reportedly raked in $7.5 million from 12:01 a.m. Friday showings alone, and has the opening-weekend record set by "The Dark Knight" in its sights.)
To make the leap from the page to the big screen, the next big superhero must have some sort of fan base, a compelling backstory, and most important, says Stephen Fishler, CEO of Metropolis, Inc., "the ability to translate easily from a drawing into a live-action world." There are characters that live in a really great graphic, comic book world, he says, but try to put them onscreen and it will either be impossibly hard – think Aqua-Man who lives underwater – or as in the case of a character named, Galactus, who wraps himself around people, a downright silly costume for an actor to wear for an entire movie. His personal favorite is one of Marvel's earliest creations, Sub-Mariner, who unfortunately, also lives in the water.
---
Follow Stories Like This
Get the Monitor stories you care about delivered to your inbox.