'Lost,' 'Law & Order,' '24': finales and the legacy of big-drama TV
The 'Lost' finale Sunday night, followed by the '24' finale and the end of 'Law & Order' after 20 years on Monday have critics assessing the impact of each series.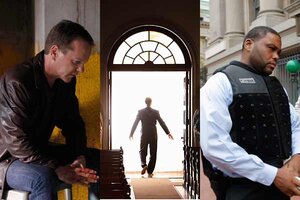 Fox/ABC/NBC/AP
As two of TV's most iconic shows, "24" and "Law & Order," wrap for good Monday night, on the heels of Sunday's "Lost" finale, critics are assessing the legacies of three shows that represent some of the most impactful dramatic television of the past two decades.
The Fox thriller starring Kiefer Sutherland set a ticking clock under its characters – and injected the rest of the TV landscape with a shot of adrenalin. The venerable NBC mothership (yet another spinoff of which, "Law & Order: Los Angeles," rolls out this fall) has filled more hours of airtime than any other single show in TV history. And the stranded souls on a magical island proved once and for all that audiences will sit still for plots of byzantine weirdness as long as they are good.
IN PICTURES: Most-watched TV series finales
"When '24' debuted just two months after 9/11," says Fordham University's Paul Levinson, "it was clearly something that already was tackling this new horrendously dangerous age of terrorism." The writers actually made changes in the storyline, executing Jack Bauer's wife at the end of the first season, he points out, making the show more severe and uncompromising in a way that spoke to audiences. "The killing of Teri has been the best expression on television of this aspect of life in the 21st century," he says, adding that the series has been controversial due to what some have seen as a glorification of torture, but it has been a complex show with conspiracies all the way up to the White House.
---