One Marine's memorial: day of racing to honor veterans' service
Ryan Jerabek's parents helped organize an annual footrace that traces the route run by their son, a Marine killed in Iraq. The event honors those who serve in the US armed forces.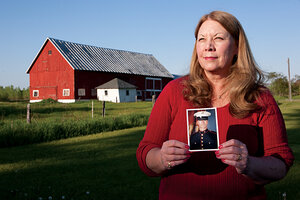 Taylor Weidman/The Christian Science Monitor
When Rita and Ken Jerabek saw the men in uniform at their door one April morning in 2004, they knew their lives had changed forever. They were told that their son Ryan, not long out of high school and a Marine Corps private first class serving in Ramadi, Iraq, had been killed in an ambush.
Something would always be missing for the couple and for Ryan's brothers. But a year or so later, Mrs. Jerabek came upon an idea she felt would honor her son's memory while also helping others. She found it in his own words, back when he was a student at Pulaski High School near Green Bay, Wis.
In a speech class in 2002, he said: "I'd like to ask of you to thank those who fought and are fighting in the battles to keep this country at the pinnacle of freedom." It became clear to Jerabek: "Ryan is wanting us to carry on what he had asked his fellow students to do."
IN PICTURES: Famous US monuments and memorials
Three things came together as the idea developed: Ryan ran track in high school, staying in shape by running a four-mile route near the family's home in rural Hobart, Wis.; he wanted to join the Marine Corps as soon as he graduated; and after military service, his plan was to go to college to become a high school history and social studies teacher.
In terms of carrying out something, "I didn't know where to begin," Jerabek says. But with the help of event planners and race organizers, Rita and Ken organized the first "Pfc Ryan Jerabek, USMC Memorial Challenge" – a four-mile footrace retracing Ryan's training route. That was in 2006, when about 600 people participated. Since then, it's become an annual event.
---