Late-life breakups like Al and Tipper Gore's even harder on women
When a long marriage like Al and Tipper Gore's ends, women often take more of a financial hit. Retirement, health care, and long-term financial stability can be thrown off balance.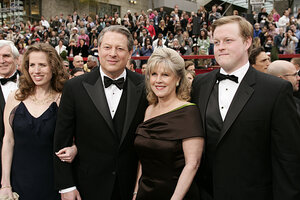 Timothy A. Clary/AFP/Newscom
The conventional wisdom that men do better financially in divorce than women is even more true when long-term marriages – such as the 40-year union of Al and Tipper Gore – break up, say legal and relationship experts.
Divorcing at a late age can sometimes leave women struggling to make up for lost retirement plans and health-insurance policies at a time when it is difficult to reenter the workforce. Yet, in certain circumstances, it can also be freeing, allowing women fresh independence.
While money is no doubt less of an issue in the Gore separation, for most people it becomes even more important in a late-life divorce. "Divorce so close to retirement can really blow a retirement plan to pieces," says author and former attorney Brette Sember via e-mail.
A couple might have had enough money stockpiled to provide for the two partners together, but that does not always translate to providing adequately for two people living separate lives, with separate homes, cars, and lifestyles.
Another issue women face is health insurance, Ms. Sember adds. A woman who has been on her husband's policy and not worked is in an difficult position. If unable to join the workforce and not yet eligible for Medicare, "that leaves her with a huge gap during which she will be uninsured," Sember says.
Regaining financial stability
This can leave the man in a better position to bounce back from a divorce. In most cases, the man is the main earner and can add to his wealth after divorce. Women entering new jobs late in life – if they can even find them – face daunting odds against recovering income lost in a divorce.
While this is changing as younger generations of two-income families alter the traditional divorce, women still make roughly 75 percent of what their male counterparts do. The lifestyle of many divorced women is 30 to 40 percent less than it was during their marriage, says financial strategist Jeffrey Landers, who writes in an e-mail that many women end up living below the poverty level or actually running out of money in their later years.
---