As 'new media' proliferate, does government have a role?
The Federal Trade Commission is holding hearings on whether government should have any regulatory role as blogs and web-only news sites proliferate. It's a red flag for many journalists.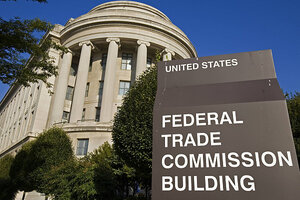 Newscom
When former Washington Post reporter Sarah Cohen appeared at a recent Federal Trade Commission (FTC), hearing on the role of government in modern journalism, she admits to being nervous.
"I'd never testified at one before and I also didn't know whether they would like what I had to say," says the Duke University journalism professor.
That tension between government and the so-called fourth estate, or the news media, is at the heart of a mounting war of words in the blogosphere as well as in print and broadcast over when, where, why and how lawmakers should interact – some say meddle – with today's swiftly changing news environment.
As traditional print and broadcast outlets have continued to dwindle at historic rates and so-called "new media" such as blogs and web-only news sites proliferate, the FTC has convened a task force on how government "can help," with a series of public input meetings, ending June 15. At the same time, in May, Michigan Senator Bruce Patterson introduced a bill to create a state registry for journalists, which he hopes would give the public a means for verifying reporter's qualifications and credentials.
The outcry over both has been swift and pointed.
Government involvement a 'chilling effect'?
---