How an Alabama fire chief risked jail to save town from Gulf oil spill
Jamie Hinton, the volunteer fire chief of tiny Magnolia Springs, Ala., has a plan to use a blockade of barges to stop the Gulf oil spill from entering the Magnolia River. For a time, he went ahead with the plan, even though it might have landed him in jail.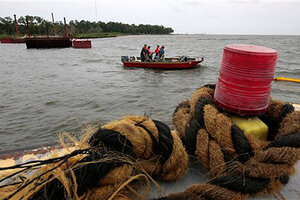 Dave Martin/AP
Admittedly, the Gulf Coast hamlet of Magnolia Springs, Ala., is an easy place to overlook. Here, the mail is still delivered by boat, and the closest thing to a seafood industry is standing in line for blackfish at Jessie's, the only restaurant in town.
President Obama did not put it on his itinerary this week, and when BP workers showed up in mid-May, they laid a single strand of boom across the mouth of the bay and left. The boom floated away hours later.
Magnolia Springs isn't exactly a linchpin of the Alabama economy.
IN PICTURES: The Gulf oil spill's impact on nature
Yet if the Gulf oil spill arrives here this week as scientists have forecast, it will not find the town unprepared. A flotilla of nine spud barges – flanked by containment boom – will be waiting, ready to block the 530-foot-wide entrance to Weeks Bay.
If all goes according to plan, these rusted steel behemoths will form an impenetrable barrier, defending the estuary's 19 federally-protected species and the vital marshland which serves as a nursery for shrimp and other seafood so crucial to the Gulf Coast region.
They will also preserve an unspoiled way of life.
---